"Buddy, You were Amazing. Thank you so much, we all loved working with you. Everyone loved your style and how could they not, you were phenomenal" These were Marco's words that I heard on my answering machine the very next day after their wedding, right before they hopped on a plane to Aruba. It just shows the kind of people Chris + Marco are: Fun, loveable, caring and genuine. Marco took the time to thank me for everything and it's moments like that which make me thankful to do what I do. To know that I made a difference on their wedding day, I ensured that they were happy with no added stress. I captured THEIR moments and told THEIR story. It was beautiful.
The day was amazing...From the moment I arrived at Marco's parents house and met the guys, who were so awesome to work with, ate some of his delicious crust like pie stuffed with brie cheese and other delightful treats which excited my taste buds...To Christina's place, greeting the beautiful bridesmaids while they watch Chris sit in her chair wearing her bra, having her make up "DID" before the big day. See I have been friends with Chris for a while so she didn't mind me seeing her in her bra, she is completely cool like that, lol. (Love You Chris :)) Just a side note, her dress was absolutely stunning. I wish I got the name of the place she got it at, I would have linked it for you future brides out there. It was incredible and she looked unbelievable in it.
These 2 are so amazing...Marco, the calm, cool and collective Italian with an incredibly huge heart. Chris, the wild, antsy, unpredictable and giddy girl eagerly anticipating what seemed like her very first date with a boy are a remarkable couple and two great indiviudal who you can't love but be around. It's never a dull moment around them.
Chris + Marco, from the bottom of my heart, I love you guys and I am thankful that I got to photograph the beginning of your lives together as husband and wife. Enjoy the photos. :)
julz
How Beautiful is my bride?
I have no idea why, but I love this shot of the back of her dress while she is adjusting...So real, not forced.
Beautiful shoes!!!
This is Chris + Marco!!!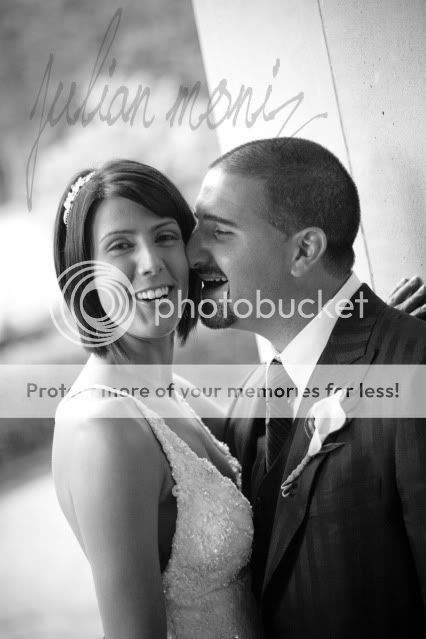 Check out my dad
Bert Moniz
getting this awesome shot on video...
I'll end this post with their first dance
FULL WEDDING SLIDESHOW!!!
PLEASE LEAVE A COMMENT LETTING ME KNOW WHAT YOU THINK :)